INNOVATION, EDUCATION,
PROMOTION AND PROTECTION
Helping to set national and international policy
The association works closely with the Mining & Energy Ministry, National Mining Agency and Colombian Mining Association to ensure emerald extraction is given due prominence on the national agenda and represents member interests in all relevant commissions and committees. They are active participants in the newly convened Mineral Reserves & Resource Commission and were heavily involved in the creation of their industrywide guidelines and standards that aim to promote best practice throughout Colombian mining.
On the world stage, APRECOL is also working to champion emerald extraction, representing Colombia within the Committee for Mineral Reserves International Reporting Standards (CRIRSCO), the  Organisation for Economic Co-Operation and Development (OECD) and the Responsible Jewellery Council (RJC).
Keeping Colombian emeralds 'green'
APRECOL is committed to 'keeping emeralds green', through the introduction and enforcement of industry-wide environmental and ecological protection measures throughout the main mining areas, education and training. Members are required to comply with the highest standards set by central government and international policymakers, including Minimum Exploratory Programs, Environmental Management Plans and Studies into Environmental Impact, Work Plans etc.
The Association is also proud to work, alongside the Ministry of Mines and Energy, on the POMCA project (Ordering Plan and Watershed Management) aimed at protecting the Carare-Minero River within the Muzo Strategic Mining Area. In this, APRECOL has provided technical and legal support to the Association of Regional Autonomous Corporations to ensure that the environmental management of the watershed complies with all regulations and, at the same time, promotes social and sustainable development throughout the region.
APRECOL also works closely with central and local government, as well as Mayors' Offices across four municipalities Muzo, Quípama, Maripí and San Pablo de Borbur on the criteria for the issuing of mining licences, compliance and the development and implementation of Land Use Planning Schemes and strategies for risk management. APRECOL is committed to demonstrating clear traceability for Colombian emeralds to ensure transparency and promote best practice to stakeholders, including consumers, internationally.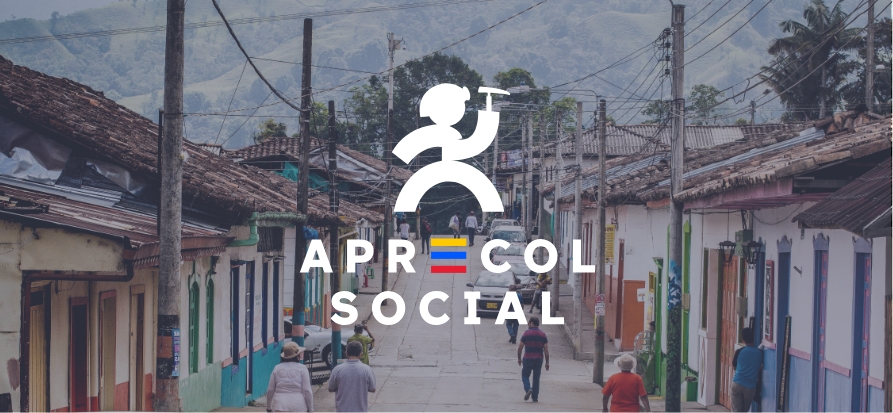 In 2018, APRECOL launched APRECOL SOCIAL as a platform for their projects focused on social, economic and community development. The wellbeing of local communities within the Strategic Mining Area and ensuring their economic sustainability in the short, medium and long-term has been a priority for APRECOL since its formation. This agenda of social responsibility and economic development is developed in close collaboration with member companies, other private sector businesses operating in the region, Mayors' Offices and relevant national/local government departments. The work of APRECOL SOCIAL is not intended to replace the government's obligations within the region, rather to complement them to optimize quality of life for communities in mining areas with projects focused on integration, economic diversification, education, health and wellbeing, security, infrastructure and supporting public services.
Another cornerstone of APRECOL SOCIAL's work is their commitment to promoting formalization within the industry, working with miners currently operating with a degree of informality (unlicensed miners known as UPMs) to develop sustainable business models that are registered with the Chamber of Commerce and meet legal requirements in employment, financial compliance, etc. thereby ensuring greater social and economic benefits for individual workers and their families. As part of this, APRECOL fights for the rights of children and adolescents within communities, working hard to eliminate illegal child labor throughout the region and enhancing educational and recreational facilities as well as offering scholarships for students to pursue higher education and technical training.
Additional support, seed funding and business mentoring is also provided to families – and specifically women and female heads of household – who work in subsistence mining. Many are invited to retrain to provide services that complement mining within these communities – for example bakeries, salons or clothing manufacturers – as well as crop cultivation and other start-ups that allow for greater economic sustainability and development in the region. Many of these initiatives are tied into the new Orange Economy model that is a major area of focus for the new Colombian President, Iván Duque Márquez, and his administration.
To enhance security within the emerald-producing region of western Boyacá, APRECOL SOCIAL has also joined forces with the Colombian National Police to create a mounted police force to patrol the area. This project has been jointly funded by public and private sector investment and will be formally unveiled during 2019.
Funding for these projects is largely derived from the royalties paid by mine operators in the region and other duties that are paid into the National Emerald Fund. This fund is chaired by the Mining & Energy Ministry and administered by Fedesmeraldas in conjunction with APRECOL, ASOCOESMERAL and ACODES.
Some examples of recent socially responsible projects that have received investment and support include:
Enhanced Security
Introduction of dedicated police station for mounted police force in Western Boyacá via innovative multi-million dollar public/private partnership scheme.
Creative Collaborations
Working with leading international galleries and art schools to bring greater creativity to the region, with artist in residence programs, art classes for local communities and public art schemes driving Western Boyacá's creative credentials, profile and tourism potential.
Environmental Sustainability
Working with local communties to create a dedicated space for secondary emerald recovery and eco-friendly disposal.
OptimiZing working conditions, efficiency, productivity and sustainability
APRECOL is committed to ensuring greater competitivity for Colombian emeralds on the world stage through best practice and the introduction of innovative technology to optimize working conditions, efficiency, productivity and sustainability.
They undertake research to discover the latest geological mining techniques, new production methods, technification of operations and improved exploration and planning all of which are focused on ensuring full traceability.
At the same time, they work alongside members to ensure the highest standards in formalized labor systems, industrial security, health and safety.
APRECOL is proud to be pioneering the introduction of disruptive and innovative technology in blockchain and big data, working with leading international players to develop tailored techniques that are designed around the specific requirements of the emerald industry. A separate crypto-currency project is also underway, which is closely linked to the Orange Economy – a major area of focus for the Colombian government led by Iván Duque Márquez.
APRECOL on the world stage
APRECOL represents the interests of Colombian emerald producers in a number of different forums overseas. These range from the calendar of international fairs and events – both sector specific and more macro – to liaison with policymakers and opinion formers within major international organizations such as the Organisation for Economic Co-Operation and Development (OECD), the Responsible Jewellery Council (RJC), World Jewellery Confederation (CIBJO), the Gemological Institute of America (GIA) and the International Colored Gemstone Association (ICA). They regularly participate in conferences and congresses where they hold presentations and participate in discussions around responsible mining, best practice and the future of the industry. They are also looking to convene a dedicated arena for the global emerald industry: the International Emerald Council.
In 2018, APRECOL worked closely with Fedesmeraldas and other associations to co-host the II World Emerald Symposium in Bogotá, demonstrating Colombia's pre-eminence in international emerald production. The event brouht together leading officials from the global industry including senior government figures, representatives from other emerald producing nations, international organizations (RJC, OECD, CIBJO), laboratories, academic specialists and luxury brands including Cartier, LVMH and Van Cleef & Arpels.
promoting best practice in responsible mining throughout the supply chain
APRECOL is committed to promoting best practice in responsible mining and educating stakeholders throughout the supply chain about the importance of formalization, best practice and social, economic and environmental responsibility. This takes place through the publication of research and reports, participation in international events and extensive outreach throughout western Boyacá where events, meetings and mentoring takes place in order to effect real, sustainable changes.
Given the current global emphasis on 'responsible luxury', their work is starting to extend to consumer audiences and in Bogotá's celebrated Emerald Museum, visitors can find out more about emerald production in Colombia and where the sparkling jewels they purchase originate. This outreach and engagement will be extended as part of the proposed Appellation of Origin project.